As I did for the Nikon D300/D300s, I aim to make this site the most up-to-date source of real-world memory card performance data for the Nikon D7000.  The initial batch of test results are in, and the winner is a tried-and-true workhorse that's been around for awhile.
Updated: 12/21/2012
New!  USB 3.0 SDHC/SDXC Read Speeds
Unlike the D300, where I put the primary emphasis on JPG files, the real challenge on the D7000 is shooting NEFs.  With a potential throughput of nearly 100 megapixels per second (6x16MP) and only slower SDHC/SDXC cards to rely on, card performance varies significantly. Settings used were typical for sports: ISO 800, manual exposure of 1/1000 @ f1.4 with the Sigma 50/f1.4 HSM, ADL (Auto), 12-bit lossless compressed NEF, 6 fps, Auto ISO set to off.  With these settings, the D7000's buffer could store 11 images; I thus fired 3 consecutive bursts of 15 frames, just enough to "bite" into the buffer.  In just under 2 seconds the buffer filled; the remaining 4 frames trickled out of the camera as images were written to the card and the buffer cleared.  I timed the total length of time for all 15 frames to determine an "effective" frames-per-second rate for the entire burst; then continued keeping time until the card activity light went out indicating that all images had been written to the card.  Measuring the size of the 45 files and dividing by the total write time gave me an average throughout in MB/sec.  (While I utilized the same lighting conditions and target for each card tested, variations of up to 10% in total files size persisted.)  Throughput rates differing by less than 1-2 MB/sec probably aren't meaningful.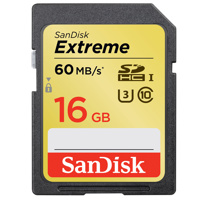 Highly Recommended
SanDisk Extreme Pro 95 MB/s (16GB) – 3.8 fps; 29 MB/sec.  SanDisk returns to share the top spot with Delkin, and at a reasonable price to boot.
Delkin 633 SDHC 95 MB/sec (8 GB) – 3.8 fps; 27 MB/sec.  The new king of the hill comes at a steep price for only marginal performance gain.
Lexar 600x UHS-I (16GB) – 3.5 fps; 28 MB/sec.  With Lexar finally getting in the UHS-I game, their premium 600x card turns in very good performance.  It's reasonably priced at $49 for a 16GB card, compared to $60 for SanDisk's top entry.
SanDisk Extreme Pro SDHC 45 MB/sec (8GB) – 3.5 fps; 26 MB/sec. SanDisk's first UHS-I SDHC card, this model quickly rose to the top of the heap but has been supplanted by Delkin.
Kingston ultimateXX 233x (8GB) – 3.5 fps; 26 MB/sec.  Performance equals the SanDisk, but at too much cost ($60+ for an 8GB card).  Possibly made by Toshiba.
SanDisk Extreme HD Video 30 MB/sec (8GB) – 3.5 fps; 25 MB/sec.  Best bang for the buck with performance rivaling its pricier cousin.
SanDisk Extreme III SDHC 30 MB/sec (4GB) – 3.5 fps; 23 MB/sec. This warrior is so old it's still rated at just Class 6, as Class 10 hadn't been adopted at the time of its release. (Later versions are now labeled Class 10; discontinued.)
G.Skill UHS-I SDXC (64GB) - 3.0 fps; 25 MB/sec.  Known more as a maker of computer memory, G.Skill has jumped into the SDHC/SDXC market with a pair of cards (32GB and 64GB).  Just $49 for the 64GB model.
Patriot EP Pro SDHC (32GB) – 3.0 fps; 25 MB/sec.  Patriot's revamped line, which demotes the "LX" series to non-UHS Class 10, offers similar performance in both "Pro" and regular cards.
Patriot LX UHS-I SDXC (64GB) (new) – 3.0 fps; 24 MB/sec.  A vast improvement over the original version (see below), with none of the incompatibility issues with the D7000.  Possibly made by Toshiba.
PNY Pro-Elite UHS-I SDHC (16GB) – 3.0 fps; 24 MB/sec.  PNY returns to the top rank with a respectable UHS-I card at just $15.99 for 16GB.
Transcend UHS-I SDHC (16GB) – 3.0 fps; 23 MB/sec.  Once again, Transcend is a bit late to the game, and while this card has acceptable speed, it's still expensive ($38).
Patriot EP SDHC (16GB) – Just a touch slower to clear the buffer than its "Pro" cousin, at somewhat lower cost.
Lexar Professional 133x (4GB) – 2.8 fps; 19 MB/sec. While trailing SanDisk, Lexar's high-speed entry is less expensive – although recent SanDisk price cuts make it far more affordable.
Best deal: SanDisk Extreme 45MB/s Cards (from Adorama):
8GB ($15), 16GB ($18), 32GB ($36), 64GB ($66), 128GB ($134)
2-pack 16GB ($34), 2-pack 32GB ($68)
From Amazon:
16GB ($19), 32GB ($32), 64GB ($66)
Delkin 8GB Elite 633 UHS-I
– $29

SanDisk ExtremePro 95 MB/s cards
– as low as $20 (8GB)

Lexar 8GB 133x Professional SDHC Card
– Just $20

Patriot EP PRO 32GB ($68), Patriot EP 16GB ($20)

Lexar 600x UHS-I cards
– as low as $36 (16GB)

G.SKILL 64GB SDXC
– Only $45

PNY Pro-Elite UHS-I 32GB
– $36
Recommended
Panasonic UHS-I (8GB) – 2.5 fps; 20 MB/sec.  New model RP-SDB08GB beats older Panasonic, but not by much and still less than ideal.
EP Memory Class 10 (16GB) – 2.5 fps; 19 MB/sec.  Very good performer.
Edge ProShot Class 10 (4GB) – 2.4 fps; 18 MB/sec.  Good results from a no-name card.
Duracell 200x (8GB) – 2.4 fps; 17 MB/sec.  Excellent for a non-UHS card.
Delkin UHS-I SD 600X (8 GB) – 2.3 fps; 19 MB/sec.  Delkin's mid-range card (following their "good, better, best" classification system) falls far short of their flagship card.
SuperTalent Class 10 (32GB) – 2.3 fps; 18 MB/sec.  Nice performance in a bargain card.
Panasonic UHS-I (8GB) – 2.3 fps; 17 MB/sec.  Worst in-camera performance of any UHS-I card I've yet tested.
SanDisk Extreme HD Video 20MB/s (16GB) – 2.1 fps; 18 MB/sec.  Rated Class 6, this puts many Class 10 cards to shame.
Lexar 400x UHS-I (16GB) - 2.1 fps; 18 MB/sec.  A real disappointment, don't waste your time with this one.  Get the 600x.
Sony UHS-I 94 MB/s (8GB) - 2.1 fps; 18 MB/sec.  While Sony is careful specify their speed claim is read only and "write speed lower," this falls well short of top-level performance.
Pretec HD Video Class 16 (16GB) – 2.1 fps; 17 MB/sec.  Non-existent speed class is merely a marketing gimmick.
Kingston UltimateX Class 10 (8GB) – 2.1 fps; 16 MB/sec.  Respectable performance at just $20 for 8GB.
Panasonic SDHC Class 10 (4GB) - 2.1 fps; 15 MB/sec.  Officially rated at 22 MB/sec, this card is reasonably fast.
Team UHS-I SDHC (8GB) – 2.0 fps; 15 MB/sec.  Picked this up as a "free gift" with another purchase; you get what you pay for.
Sony Class 10 (8GB) – 2.0 fps; 14 MB/sec.  At $35, no value here for merely respectable performance.
Patriot SDHC LX Class 10 (8GB) - 2.0 fps; 14 MB/sec.  This entry from memory-maker Patriot turned in a good performance at an outstanding price.
Note (12/30/2010): I have confirmed with Patriot that there are some compatibility issues with some of their SDXC/SDHC cards and the D7000.  I have encountered this with their SDXC card but not the SDHC.  At random times my D7000 will report that no card is in the slot when the SDXC card is inserted.  Removing and re-inserting the problem solves the issue but it re-occurs periodically.  I've never lost images but something is clearly not right.
Note (9/17/2011): Card is currently at Patriot for a firmware upgrade to fix this problem.
Note (10/1/2011): Upgraded card (see above) is a big improvement in both speed and D7000 compatibility.
Panasonic 4GB SDHC Class 10, 22 Mb/Second
– $19 Patriot LX SDHC 8GB, Class 10
– $19 SuperTalent 32GB, Class 10 – $45
Marginal
Kingston Ultimate 100x (8GB) – 1.9 fps; 15 MB/sec.  Really not much worse than its Class 10 cousin (above), this Class 6 card is $4 cheaper in the 8GB size.
Delkin Pro 24MB/s 163x (8GB) – 1.8 fps; 15 MB/sec.  Nope, doesn't quite cut it.
RiData Lightning 64GB SDXC - 1.8 fps; 15 MB/sec.  This lightning isn't greased.
Pretec SDHC 233x (8GB) – 1.8 fps; 14 MB/sec.  Lagging far behind its claimed specs of 34 MB/sec, there are better choices out there.
Dane-Elec ProLine 200x (8GB) – 1.8 fps; 13 MB/sec.  Another pretender.
Hoodman RAW STEEL Class 10 (8GB) – 1.7 fps; 13 MB/sec.  Looks like there's kryptonite around.
Transcend Ultimate Class 10 (8GB) – 1.6 fps; 10 MB/sec.  Transcend falls short, though if their CF line is any indicator, they will eventually release faster cards.
SanDisk Video HD Class 4 (4GB) – 1.5 fps; 10 MB/sec.  Another old dog, this Class 4 card turns in Class 10 performance.
Not Recommended
PQI SDHC 150x (8GB) – 1.4 fps; 9 MB/sec. This claimed Class 10 card limped along.
PNY Professional 20MB/s Class 10 (8GB) – 1.4 fps; 9 MB/sec.  Also fell far short of its claimed rating in the D7000.
Transcend SDHC Class 6 (4GB) – 1.3 fps; 8 MB/sec.  Exceeded its rated speed but still lags.
Wintec filemate Professional (8GB) – 1.3 fps; 9 MB/sec.  Don't do it.
Lexar Platinum 100x (8GB) – 1.0 fps; 6MB/sec.  Barely met its Class 6 rating but lagged far behind its claimed "x" speed in the D7000.
RiData Lightning Class 10 (8GB) – 0.9 fps; 8 MB/sec.  Not really surprising given the RiData CompactFlash card that shares this card's branding.
Ocx SDHC Class 6 (4GB) – 0.9 fps; 7 MB/sec.  Yep, just what it says; Class 6.
SanDisk Ultra SDHC 15MB/sec (8GB) – 0.9 fps; 5 MB/sec.  Liar, liar, pants on fire.
A note on SD speed ratings. The SD Association has developed basic performance standards for SD, SDHC, and SDXC cards.  The traditional "speed class" fell into 3, and later 4, classes: 2, 4, 6, and 10, each representing a minimum sustained read/write speed of 2, 4, 6, and 10 MB/sec respectively.  With the advent of the SDXC standard for the highest capacity cards, a new UHS-I speed class was established.  The UHS-I (ultra-high speed) speed class allows for up to 104 MB/sec transfers, and the D7000 supports UHS-I cards.  Very few of these cards have reached the market, with only Kingston and Patriot versions of UHS-I cards available at the time of this writing.  Interestingly, the Patriot 64GB UHS-I SDXC card I tested turned in a nearly identical performance to the Patriot Class 10 SDHC card.  As these cards retail for upwards of $250-$300 each, I'm withholding judgment on the UHS-I speed class in the D7000 for now, at least until SanDisk or Lexar releases their (announced) SDXC cards.  Toshiba has also announced SDHC cards which will utilize the UHS-I interface, and perhaps these will be more reasonably priced.  Time will tell.